Click link for information about the 20/21 Golden Halo Awards.
https://docs.google.com/presentation/d/e/2PACX-1vRgmJCQlCor_Cqx54dWMlm4LIYIRi4-ZbfRELB2z2Gq0499mDmTlON5ugjVbff-G5Zs1-yn4DrkNi-Y/embed?start=true&loop=false&delayms=3000
Our signature fundraiser is the Golden Halo Awards. The Golden Halo Awards were created in 2008 to recognize and honor outstanding contributions to the cause of child abuse prevention, intervention and advocacy in the Roanoke and New River Valleys. The Golden Halo celebration event is held each April during Child Abuse Prevention Month. Nominees have distinguished themselves in one of the following categories: Department of Social Services, Law Enforcement, Legal/Judicial, Medical Professional, Mental Health Professional, Community Volunteer, Foster Parent or Educator.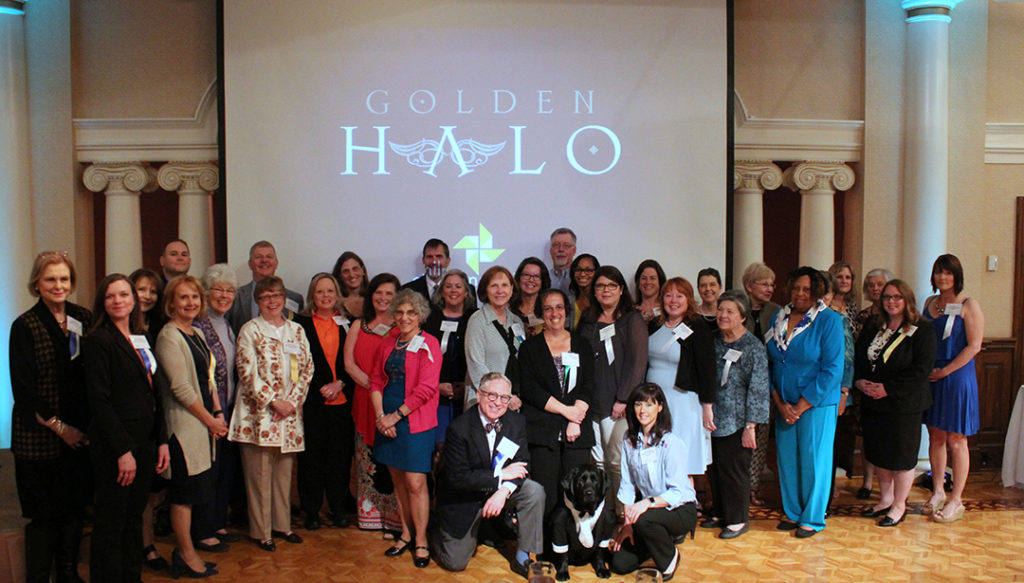 The Golden Halo Awards Sponsors
Partner Level
Branch Group
Davidson's
J.M. Ford & Associates
Huffman & Kreger Family Dentistry, PLLC
Member One Credit Union
Golden Halo Alums
2018 Celebration Winners
Angie Wooten ~ DSS
Elizabeth (Liz) Mortlock ~ CASA Volunteer
Karen & Josh Philips ~ Foster Parent
Michael Weiss ~ LE
Kelli Boyer ~ Legal/Judicial (Tie)
Holly Peters ~ Legal/Judicial (Tie)
Felicity Adams-Vanke ~ Medical
Angie Mitchell ~ Mental Health
Mary Dykstra ~ Guardian Angel
2019 Celebration Winners
Jenny Alexander ~ DSS
Jeanne Clerc ~ CASA
Sylvia & Dean Horton ~ Foster Parent
Adam Grubb, Michael Harmony, Edward Harmony ~ LE
Nate Griffith ~ Legal/Judicial (Tie)
Jenn Wells ~ Medical
Susan Muhoro, Lavinia Garbee ~ Mental Health
Frank Rogers ~ Guardian Angel
2017 Celebration Winners
Carol Haas ~ CASA Volunteer
Danita Tucker ~ CPS
Hayley Poland ~ Educator
Eric & Chastity Labiosa ~ Foster Parents
Leah Russell ~ Guardian Angel
Trista Wallace ~ LE
Sarah Akers Campbell ~ Legal/Judicial
Amy Kageals ~ Medical
Jennifer Nolley ~ Mental Health
2016 Celebration Winners
Dodi Lawson ~ CASA Volunteer
Marty Harmon ~ CPS
Lisa Denny ~ Educator
Jim & Lisa Agnes ~ Foster Parents
WDBJ Childhood Lost Team ~ Guardian Angel
Carla Cross ~ LE
Alice Ekirch ~ Legal/Judicial
Alice Ackerman ~ Medical
Jennifer Thomas ~ Mental Health
2015 Celebration Winners
Mary Ellen Dykstra ~ Community Volunteer
Grace McCown ~ CPS
Decca Knight ~ Educator
Bob & Carol Cornish ~ Foster Parents
Joseph Clarke ~ Guardian Angel
Eric Snow ~ LE
Chris Rehak ~ Legal/Judicial
Camron Johnson ~ Medical
Pat Davidson ~ Mental Health
2014 Celebration Winners
Judy Barger ~ Community Volunteer
Shannon Brabham ~ CPS
Rita Bishop ~ Educator
Michael & Shirley Bryant ~ Foster Parents
Ellen Weinman ~ Guardian Angel
Brian Holohan ~ LE
Eric Woods ~ Legal/Judicial
April Bennett ~ Medical
Susan Owens ~ Mental Health
2013 Celebration Winners
Robin Salo ~ Child Protective Services
Asst. Chief, Terrell L. Holbrook ~ Law Enforcement
Heather P. Ferguson ~ Legal/Judicial
Dr. Amy M. Tharp ~ Medical Professional
Rebecca L. Farrell, Ph.D. ~ Mental Health Professional
Elizabeth Gray ~ Community Volunteer
Jimmy & Norma Powers ~ Foster Parents
Tasha Eaton ~ Foster Parent
Karen Pendleton ~ Educator
Judge Philip Trompeter ~ Guardian Angel ~ Special Award
2012 Celebration Winners
Tony Pearman ~ Guardian Angel/Special Award
Michele Dowdy ~ Educator
Mary Ellen Verdu ~ Community Volunteer
David & Stephanie Jones ~ Foster Parents
Diane Kelly ~ Mental Health Professional
Dr. Don Kees ~ Medical Professional
Katrina Johnson ~ Legal/Judicial
Robin Freeman ~ Child Protective Services
Det. Neil Gardner ~ Law Enforcement
2011 Celebration Winners
Susan Goad ~ Child Protective Services
Sgt. Stacey Sheppard ~ Law Enforcement
Alice Ekirch ~ Legal/Judicial
Vanessa Freville, CPNP ~ Medical Professional
Stephanie Pratola, PH.D. ~ Mental Health Professional
Fenton (Spike) Harrison ~ Community Volunteer
Rick Ramsuer ~ Foster Parent
Lisa Childress ~ Educator
Clarine Spetzler ~ Guardian Angel/Special Award
2010 Celebration Winners
Amy Ferguson ~ Child Protective Services
Det. April McCadden & Det. Holly Willoughby ~ Law Enforcement Team
Heather Ferguson, Esq. ~ Legal/Judicial
Candice Carroll ~ Medical Professional
Karen Bailey ~ Mental Health Professional
In Memory of Sarah Ellis Floyd ~ Community Volunteer
Jenny Basham ~ Educator
Michelle Yopp ~ Foster Parent
2009 Celebration Winners
Lynette Jobe ~ Child Protective Services
Det. Adam Thompson ~ Law Enforcement
Robin Dearing, Esq. ~ Legal/Judicial
Melissa Harper ~ Medical Professional
Pat Davidson, LCSW ~ Mental Health Professional
Helen Dean ~ Community Volunteer
Todd Marcum & Tony Pearman ~ Special Award