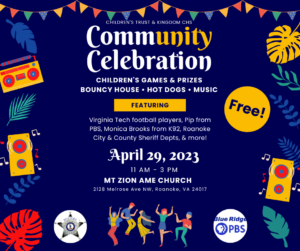 Children's Trust is thrilled to announce its upcoming CommUNITY Celebration, a fun-filled day of activities and fellowship for children and families alike. Taking place on Saturday, April 29 from 11 AM to 3 PM, at Mt Zion AME Church, 2128 Melrose Ave NW, Roanoke, VA 24017.
From games and giveaways to a number of special guests, there's something for everyone at this event. Children can participate in a variety of activities: face painting, bouncy houses, arts and crafts, and more! Members of the Virginia Tech football team will join us, as well as Pip from PBS, Mugsy from the Salem Red Sox, and Monica Brooks from K92. Free hot dogs will be served by the Roanoke County Sheriff's Department, in addition to other fun snacks.
But the CommUNITY Celebration isn't just about fun and games – it's also an opportunity for families to learn about the programs Children's Trust offers. Representatives from the Children's Trust will be on hand to answer questions, provide information about their programs, and offer resources and support to families in need.
The Children's Trust CommUNITY Celebration is free and open to the public. All are welcome to attend, and families are encouraged to bring their children and friends. Join us for a day of fun and community building!
As child abuse and neglect never stop for weather, we will gather together whether rain or shine.
EVENT INFORMATION:
Saturday, April 29 from 11 AM – 3 PM
Mt Zion AME Church
2128 Melrose Ave NW
Roanoke, VA 24017
CONTACT:
Meghan Grey, Children's Trust
(540) 344-3579 x28
meghan.grey@roact.org
Children's Trust of Roanoke Valley consists of five programs: Court Appointed Special Advocates (CASA), Children's Advocacy Center (CAC), Children First, Healthy Families, and the Trauma Informed Community Network. Children's Trust programs craft a continuum of care for children dealing with child abuse and neglect through prevention services, public education outreach, impactful advocacy, and a providing a child-focused environment to support children through investigations of child abuse and neglect. More information can be found at www.roact.org.