Since 1979, Children's Trust has served the children and families of Virginia. We combine needed public education outreach, effective advocacy, and a strong network of support for area children and families. We are dedicated to promote awareness about child abuse, provide family support education, provide a child-friendly environment for the investigation of abuse, and advocate for the best interests of abused and neglected children.

Children First offers child abuse prevention classes to children in schools and training for adults who work with children. They currently offer two national programs: Speak Up Be Safe™ and Stewards of Children™.

Healthy Families Roanoke Valley connects new parents around the state with a variety of services, including – for the most overburdened families – a free-of-charge home visitor supports the family before the child is born and until the child enters school. Healthy Families is a national home-based, evidence-based family support and coaching programs that supports parents and helps them create stable, nurturing environments for their children.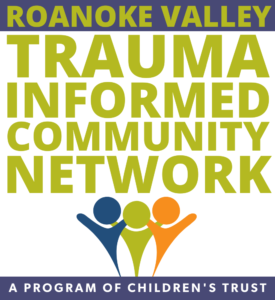 The Trauma Informed Community Network (TICN) seeks to educate the Roanoke Valley about trauma, trauma-informed care, and resiliency. TICN connects organizations in all sectors with resources, training, and techniques for implementing trauma-informed systems to help everyone thrive.

The Children's Advocacy Center (CAC) is a child-friendly facility designed to reduce the trauma children often endure during the investigation and prosecution of abuse. We have facilities in Roanoke, Bedford and New River Valley.

The Court Appointed Special Advocates (CASA) program trains and supervises volunteers who advocate for the best interests of abused and neglected children, ensuring they have a safe, permanent home.