Having an open relationship with your child helps to prevent abuse. Kids who know adults will listen without judgment often are safer.
Teach children they are special, valuable, and deserve to be safe.
Talk about why your child deserves respect and how to show others respect.
Tell them that sometimes adults or kids may try to trick them, using animals, food, money, special attention, or other things kids like. Encourage them to talk about it.
Teach them the real names of private parts and about the need to keep them private. You could say that no one should touch them where a bathing suit covers.
When children are told they have to hug or kiss or be hugged or kissed, they also learn that it's OK for someone else to control their bodies. Let them set their own boundaries.
Encourage children to talk with you if they feel unsafe. Say you will listen and believe and help them.
Tell your kids, "If anyone tells you to keep a secret and it makes you uncomfortable, tell a trusted adult about it as soon as you can."
---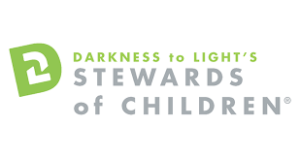 Any organization working with children is welcome to host our Stewards of Children program through the Darkness of Light national program. We offer these at no charge for adults at churches, camps, other organizations. In any professional setting where adults work with children, we can provide this important program. Contact Kendall Ireland today for more information at (540) 344-3579 x13 or email her at kendall.ireland@roact.org
---
Learn more about child abuse & neglect and protecting children.
Good for Teens
Digital/Online Safety for Children & Teens:
Adverse Childhood Experiences (ACEs) & Resilience:
Videos:
Helplines:
Call or chat with questions and concerns. Most are 24/7. (Services in "bold" have online chat.)
#nationalchildabusepreventionmonth #savejane #endchildabuse #preventchildabuse #childrenstrust #virginia #getsocial #community #prevention #protectchildren #family