CASA: Court Appointed Special Advocates
CASA is a program of Children's Trust
The CASA program trains and supervises volunteers who advocate for the best interests of abused and neglected children, ensuring they have a safe, permanent home.
Exactly what does a CASA volunteer do?
CASA volunteers listen first. Then they act. Volunteers get to know the child by talking with everyone in that child's life: parents and relatives, foster parents, teachers, medical professionals, attorneys, social workers and others. They use the information they gather to inform judges and others of what the child needs and what will be the best permanent home for them.
SIGN UP to Become a CASA!
We offer training in the Spring and again in the Fall. Our next training session is scheduled to begin September 26, 2023. To sign up fill this out: CASA Volunteer Form
Requirements for becoming a CASA include:
Be 25 years old
Have at least a high school diploma or GED
Be willing to complete necessary background checks, provide references and participate in a phone interview and in-person interview
Complete our 30+ hour pre-service training course
Have strong verbal and written communication skills
Be available for court appearances, with advance notice
Provide your own transportation
Be willing to commit to the CASA program until your first case is closed
The primary responsibilities of a CASA volunteer are to:
Gather information: Review documents and records, interview the children, family members and professionals in their lives.
Document findings: Provide written reports at court hearings.
Appear in court: Advocate for the child's best interests and provide testimony when necessary.
Explain what is going on: Help the child understand the court proceedings.
"Be the glue": Seek cooperative solutions among individuals and organizations involved in the children's lives.
Recommend services: Ensure that the children and their family are receiving appropriate services and advocate for those that are not immediately available. Bring concerns about the child's health, education, mental health, etc. to the appropriate professionals.
Monitor case plans and court orders: Check to see that plans are being followed and mandated review hearings are being held.
Report suspected abuse: CASA volunteers are, per the code of Virginia, mandated reporters of child abuse and neglect.
What sort of support will I receive?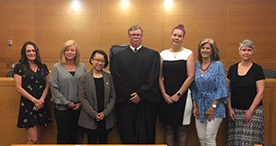 You will be supported every step of the way. You will have opportunities for continuing education via workshops, online resources provided by our program as well as the National CASA Association, a resource library, local and national Facebook community, and state and national conferences. You will also be assigned to one of our professional staff members who will attend court with you, review your court reports, and provide guidance along the way.