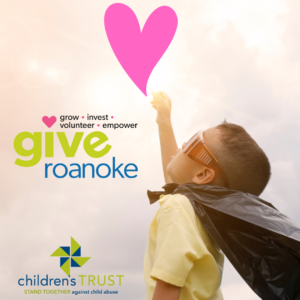 Children's Trust combines needed public education outreach, effective advocacy, and a strong network of support for Roanoke children and families and is dedicated to coordinating services that will improve the community by promoting awareness about child abuse, providing family support through education, providing a child-friendly environment for the investigation of abuse, and advocating for the best interests of abused and neglected children.
Children's Trust has dedicated years of service to preventing abuse against the region's children and advocating on the behalf of those who have been mistreated. We are honored to be a benefitting non-profit in the community-wide day of giving, GIVE Roanoke.
GIVE Roanoke 2022 was held Wednesday, April 26, 2022.
2024 details coming soon!
Your donation supports our FIVE child abuse prevention, intervention AND advocacy programs!
Our five programs include:
Children First

Healthy Families Roanoke Valley

Roanoke Valley Trauma Informed Community Network

Children's Advocacy Center
CASA – Court Appointed Special Advocates