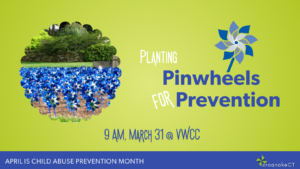 March 23, 2023 — The pinwheel has come to serve as the symbol of the amazing childhoods we want for all children: whimsical, happy, and healthy. Each year, to kick off April's Child Abuse Prevention month, Children's Trust plants a pinwheel garden at Virginia Western's Community Arboretum to raise awareness for the many local children facing abuse and neglect. By planting pinwheels in public spaces, we can bring attention to this important issue and inspire action to protect our children.
Children's Trust volunteers and staff will plant its annual garden of over 3000 pinwheels on Friday, March 31, 2023 at 9 AM at the Community Arboretum located at Virginia Western Community College, 3094 Colonial Ave SW, Roanoke, VA, 24015. The public is welcome to join us in planting and we need the community's help to make this campaign a success! We expect the planting to take approximately two hours. The pinwheels will remain on display the whole month of April.
As child abuse and neglect never stop for weather, we intend to complete this project rain or shine.
Event Information:
Friday, March 31 at 9:00 AM
Virginia Western Community Arboretum
Webber Hall – 3094 Colonial Ave SW
Roanoke, VA 24015
Children's Trust of Roanoke Valley consists of five programs: Court Appointed Special Advocates (CASA), Children's Advocacy Center (CAC), Children First, Healthy Families, and the Trauma Informed Community Network. Children's Trust programs craft a continuum of care for children dealing with child abuse and neglect through prevention services, public education outreach, impactful advocacy, and a providing a child-focused environment to support children through investigations of child abuse and neglect. More information can be found at www.roact.org.